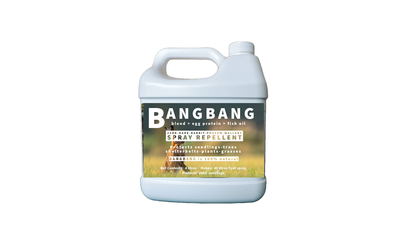 BANGBANG 40 - Concentrate makes 40 litres spray-on repellent - protects 2000 seedlings for 6+ weeks
$175.00
BANGBANG 40 is a 4L concentrate of fish protein + egg protein + ovine blood that makes a total 40L final spray once added to 36L of water. That's one part of BANGBANG to nine parts of water.
It treats up to 2000 young seedlings. It is repulsive to tree browsers.
For an investment of around 9 cents per tree this repellent will improve your trees' chances of survival. Effective for 6+ weeks or longer depending on ambient conditions.
If you were to pre-spray your seedlings when packed in bulk before planting then the spray will go a lot further. As an example, 1L of concentrate when mixed would treat about 2000 boxed-up seedlings with a light coat.
Bulk packs are available on request for larger volume applications. We can do an 21L container of concentrate.
SKU: BB40