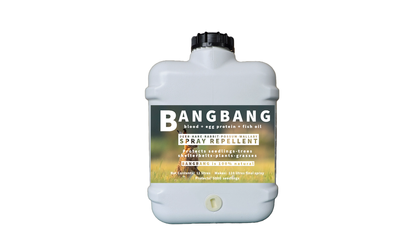 BANGBANG 110 - Concentrate makes 110 litres spray-on repellent - protects 5000 seedlings 6+ weeks
$460.00
BANGBANG 110 is an 11L concentrate of fish protein + egg protein + ovine blood that makes a total 110L final spray once added to 99L of water. That's one part of BANGBANG to nine parts of water. Install a tap into the bung for periodic use as required.
It treats about 5000 young seedlings. It is repulsive to tree browsers.
For an investment of around 8 cents per tree this repellent will improve your trees' chances of survival. Effective for 6+ weeks or longer depending on ambient conditions.


SKU: BB110