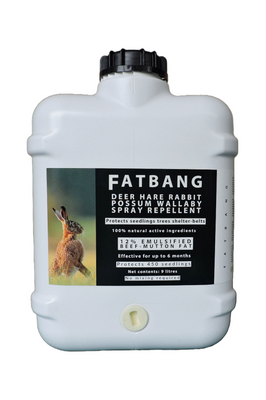 FATBANG 21 Litres spray-on repellent - 6+ months protection for around 1000 seedlings
$170.00
FATBANG is 12% animal fat emulsified into a spray. Once applied it forms a rain-fast fat coating on the target plant that gives off an odour and texture that is repulsive to tree browsers. It lasts 4-6 months on the plant and is resistant to rain and light degradation.
FATBANG 21 is a 21 litre pack that treats about 1000 young seedlings - based on 20mls per seedling. For an investment of around 17 cents per tree this will improve your trees chances of survival!
********* WAIT WAIT WAIT ************
PRIOR TO PLANTING!
If you are going to pre-spray your seedlings BEFORE planting then consider instead a smaller pack of FATBANG. A 4 litre pack will cover about 600 pre-planted bulk seedlings! An 11L pack will cover about 1200-1300 seedling. A 21L pack will treat about 3000 seedlings. HOWEVER, YOUR PRE-SPRAYED SEEDLINGS WILL BE A BIT GREASY TO HANDLE!
SKU: FB21